Who is this service for?
Monitask is designed for companies, teams, and remote workers. The dashboard is accessible through the cloud on any device, while our desktop tracking software is available on both Windows and Mac.
About Monitask
Monitask delivers employee monitoring solutions to boost productivity, efficiency, and accountability across your team. Advanced screenshot and activity monitors, as well as time tracking capabilities, keep teams focused on the task at hand. Our software is powerful, yet lightweight, making it simple and easy to use. Managers can also access their dashboard on any of their devices to keep track of their team anytime, anywhere. Sign Up for Monitask and start saving time and money, today.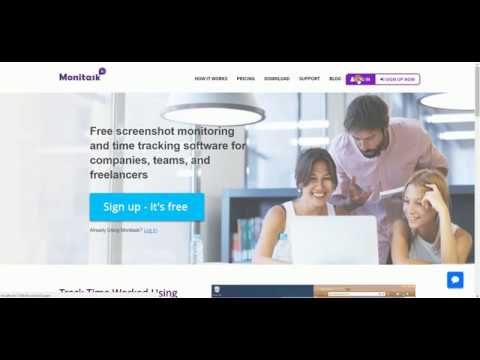 Product details
Starting price:

1usd / per month
more about prices

Free version:

Yes

Free trial:

Yes, get demo

Desktop & Mobile Platforms:

Mac

Windows

Linux

Cloud, SaaS, Internet

Training:

Documentation

Online

Support:

Working hours

Online
Software Developer
Monitask
http://monitask.com/
Set up in 2016
United States
Features
360 Degree Feedback
Agile Methodologies
Alerts/Notifications
Applicant Tracking
Benefits Management
Biometric Recognition
Browsing History
Budget Management
Client Portal
Collaboration Tools
Compensation Management
Cost-to-Completion Tracking
Create Subtasks
Customizable Templates
Database Creation
Show all features
Deployment Management
Document Generation
Electronic Signature
Employee Activity Monitoring
Employee Database
Employee Email Monitoring
Employee Profiles
File Sharing
For MSPs
Gamification
Gantt/Timeline View
Idea Management
Idle Time Monitoring
IT Asset Management
Kanban Board
Keystroke Recording
Live Chat
Meeting Management
Messaging
Milestone Tracking
Mobile Access
Network Monitoring
Notes Management
Office Suite
Onboarding
Online Punch Card
Patch Management
Payroll Management
Percent-Complete Tracking
Performance Management
Portfolio Management
Presentation Tools
Productivity Analysis
Project Management
Punch card
Real-time Alerts
Recruitment Management
Recurring Tasks
Remediation Management
Remote Access/Control
Remote Support
Reporting/Analytics
Resource Management
Salaried Employee Tracking
Screen Activity Recording
Self Service Portal
Sick Leave Tracking
Softphone
Spreadsheet View
Task Board View
Task Management
Team Chat
Time & Attendance
Time & Expense Tracking
Time Off Management
Time Tracking
Time Zone Tracking
Timesheet Management
To-Do List
Traditional Methodologies
Vacation/Leave Tracking
Video Chat
Video Conferencing
Workstation Tracking
Compare with similar sites