Who is this service for?
Our customer base consists of IT Professionals that want to monitor and respond to network, server, application and user activity.
About Corner Bowl Server Manager
Corner Bowl Server Manager is a SIEM, a Network Monitor, a Server Monitor, an Application Monitor, a Log Manager, a Syslog Server, an Azure Active Directory Audit Log Manager, a Disk Monitor, a Website Monitor, an Email Server Monitor, a Database Monitor, an SSL Certificate Expiration Monitor, a Process Monitor and much more. Generate network-wide performance summary reports. Get real-time notifications when networks, hardware and software fail. Monitor user and file activity. All for less!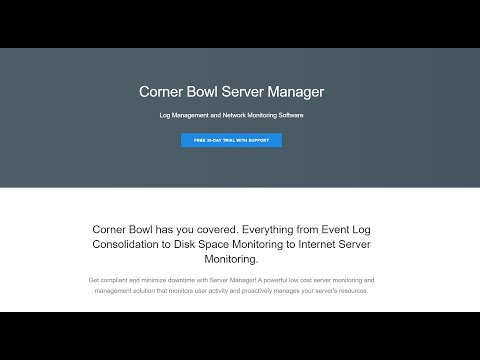 Product details
Starting price:

1usd / per month
more about prices

Free trial:

Yes, get demo

Desktop & Mobile Platforms:

Mac

Windows

Cloud, SaaS, Internet

Training:

Documentation

Online

Support:

Working hours

Online
Software Developer
Corner Bowl Software Corporation
https://www.cornerbowlsoftware.com
Set up in 2003
United States
Features
Access Controls/Permissions
Alerts/Notifications
Availability Testing
Bandwidth Monitoring
Baseline Manager
Capacity Management
Compliance Management
CPU Monitoring
Credential Management
Dashboard
Email Monitoring
Event Logs
FTP Monitoring
Internet Usage Monitoring
Inventory Management
Show all features
IP Address Monitoring
Issue Auditing
License Management
Mail Server Monitoring
Maintenance Scheduling
Network Analysis
Network Resource Management
Patch Management
Performance Metrics
Real Time Monitoring
Remote Access/Control
Scheduling
Server Monitoring
Service Level Agreement (SLA) Management
Transaction Monitoring
Uptime Reporting
Virtual Machine Monitoring
Web Traffic Reporting
Other categories uses in
Alternatives Corner Bowl Server Manager