Who is this service for?
Site24x7 is built for small and medium businesses, and caters to job functions that include the business owner/web app administrator, site reliability engineer, system administrator and IT manager.
About Site24x7
Track the performance of Windows, Linux, FreeBSD, and OS X servers with more than 60 performance metrics including CPU, disk, memory, thread, and handle count of processes and services. In addition to monitoring servers, install ready-to-use 50+ plugin integrations and Microsoft applications including IIS, SQL, and Exchange.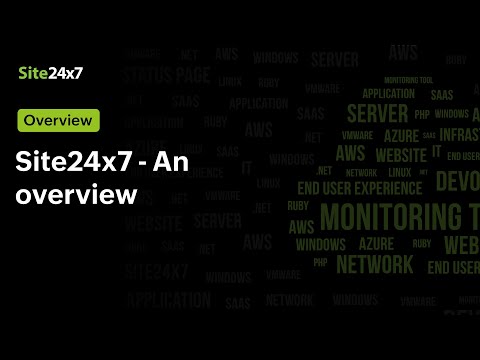 Product details
Starting price:

1usd / per month
more about prices

Free version:

Yes

Free trial:

Yes, get demo

Desktop & Mobile Platforms:

Mac

Windows

Linux

App - Android

App - IOS

Cloud, SaaS, Internet

Training:

Documentation

Online

Support:

Working hours

Online
Software Developer
ManageEngine
http://www.manageengine.com/
Set up in 1996
United States
Features
Access Controls/Permissions
Alerts/Notifications
Application Management
Audit Trail
Availability Testing
Bandwidth Monitoring
Baseline Manager
Billing & Provisioning
Capacity Analytics
Corrective and Preventive Actions (CAPA)
Cost Management
CPU Monitoring
Credential Management
Dashboard
Demand Monitoring
Show all features
Deployment Management
Diagnostic Tools
Disaster Recovery
Email Monitoring
Event Logs
For MSPs
FTP Monitoring
Full Transaction Diagnostics
Incident Reporting
Internet Usage Monitoring
Investigation Management
IP Address Monitoring
IT Asset Management
IT Incident Management
Mail Server Monitoring
Maintenance Scheduling
Mobile Access
Multi-Cloud Management
Network Analysis
Network Monitoring
Network Resource Management
OSHA Compliance
Patch Management
Performance Analysis
Performance Metrics
Real Time Monitoring
Real-time Alerts
Remediation Management
Resource Management
Root Cause Analysis
Safety Incident Management
Scheduling
Server Monitoring
Service Level Agreement (SLA) Management
Supply Monitoring
Task Management
Transaction Monitoring
Uptime Reporting
Virtual Machine Monitoring
Web Traffic Reporting
Workflow Approval
Compare with similar sites